OSH-Interview — Adrian Bliss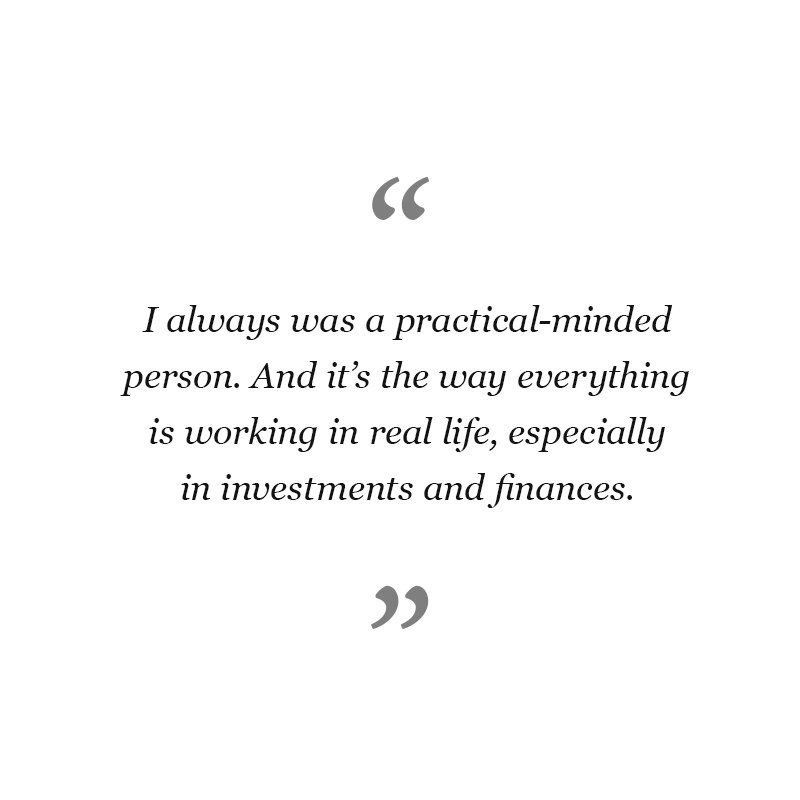 In the 3rd issue of the OSH-Interview project we talk to Adrian Bliss – top level wealth manager and financial adviser currently living in Shanghai.
- Adrian, you were born in UK, right?
— Yes, I was born in England, but from the age of about 5 my family lived internationally. I've been an expat for the most of my life moving around the world. I lived in nice places like Bermuda, Spain, Singapore and many others. But I finished university in the UK.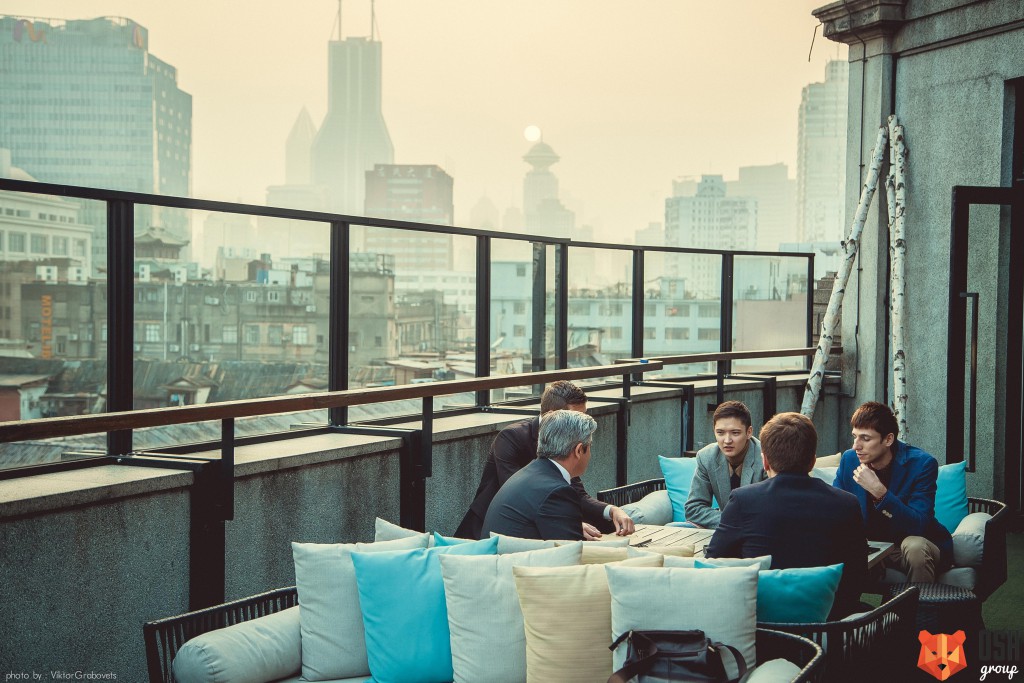 - What university was that?
— Southampton Solent University. I went to a Maritime Business School when I was 19 and finished at 21. It was a business course but all related to the marine industry. Actually we studied two absolutely different things. The practical side and the academic side, studying such things as meteorology, ecology, marine biology, I learned how to drive boat and how to tow another boat in case of an emergency. Then we also studied such subjects like maritime law, economics, marketing and business. Still all the business studies that we did were on marine or shipping companies.
But when I finished the course I decided to not continue with education. I always was a practical-minded person. Academic life wasn't for me. My brain was much better in practical sphere than in theoretical one. That was one of the reasons why I chose that course at a Maritime Business School. It was very practical. And it's the way everything is working in real life, especially in investments and finances where I am engaged now.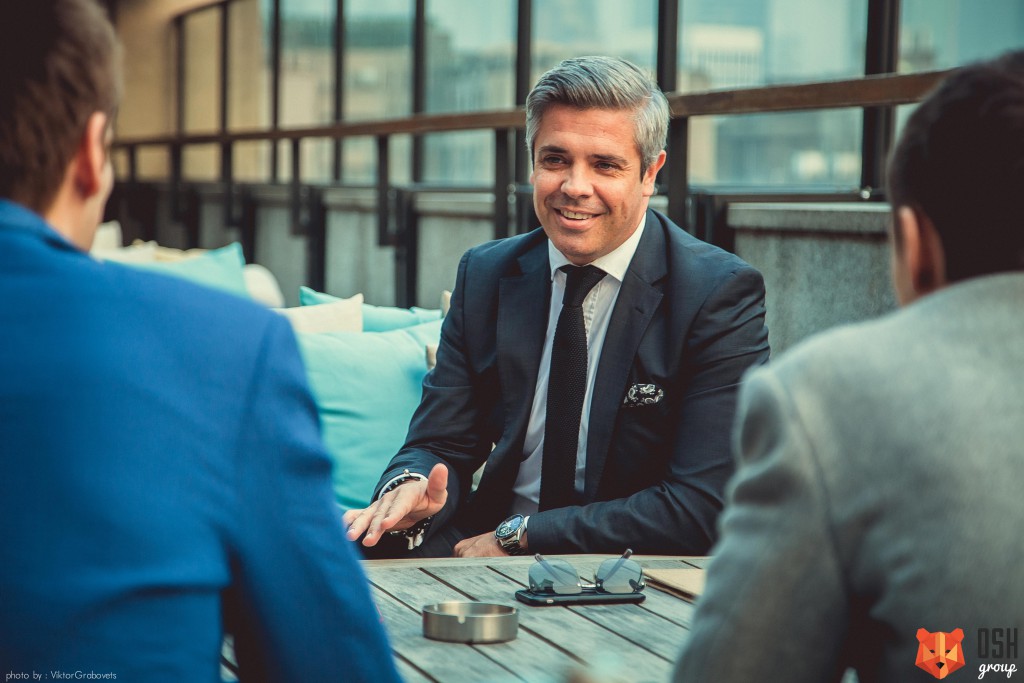 - Getting right to the point, how did it happen that you became a professional in finances?
— Well, I did many things before choosing a career in finance. When I've just left university I worked as a teacher in Spain for some time. I was teaching sports for children. But the money was terrible, so I had to change careers quite quickly. Then I started to work for insurance company in the UK. At the same time I fell in love with the girl, we got married and we had two children. Everything moved very quickly. But that gave me a huge motivation, an overwhelming motivation to be successful — I needed to make money to provide for my family. Your priorities change completely when you have a family. So I set up a very small business – it was clothing / retail business in my hometown. I was about 21-22 years old at the time.
- That was your first business, right?
— Yeah, and to be honest it didn't make any money, at all. It paid for my wedding but not more. From that failure I went to another business. This time in catering. My wife and I were delivering sandwiches, salads, hot foods and so on to offices around my hometown. It was home-made food which was made in our kitchen at home.
Beyond any expectations we were growing very fast. First day I made 100 pounds, the second day I made 200 pounds. Soon I had to get people to work for me. Within 3 months I think we had 500 sandwiches per day going out to different offices and factories. Within 6 month I had to leave the house because it was becoming a very busy kitchen. We were a big problem for a lot of catering companies in our town. Our food was really good, fresh and very cheap. And we provided an excellent service at the same time. We even started to win contracts with universities and such big organizations like factories and so on.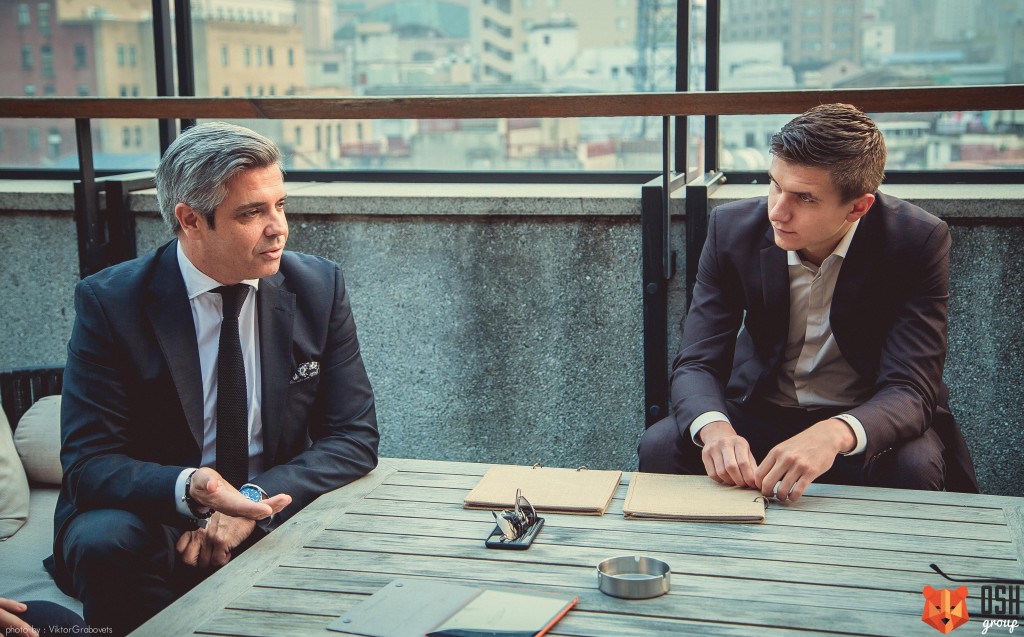 - Did you make any promotion of your product through social media, like local TV or newspapers?
— No, I was just knocking every door in my hometown by myself and offering my sandwiches.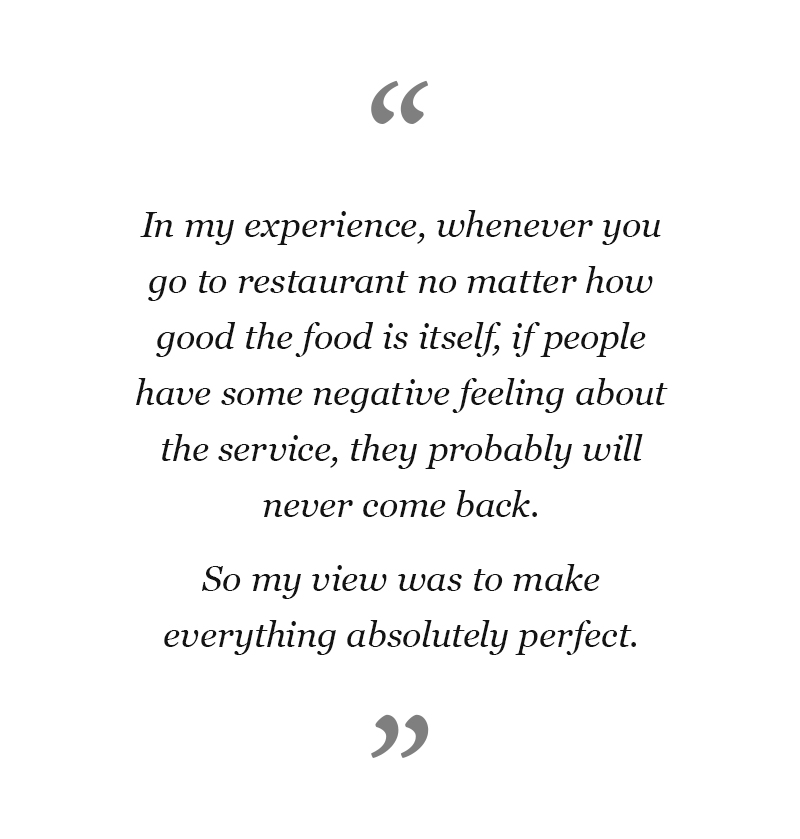 - What was the initial amount of investment when you started this business?
— I started that business with 50 pounds. And after one year I sold it for 100 000 pounds, because it was really exhausting job. I had to work about 16 hours a day. Even despite the fact that we made great money, around 5-6 thousand pounds a month, it wasn't worthy, I was killing myself. I wanted people to come to me, not to deliver goods for myself anymore. So I sold this business and opened a restaurant in my hometown of Bournemouth.
Firstly I was going to open something like a café bar. But I only managed to find a place in small village near the town. It wasn't the place where a lot of people are always hanging around. It was the place where people only could go on purpose. And it was obvious that no one will go so far just to eat some sandwiches. So I decided to change the whole idea. I borrowed as much money as I could and opened a beautiful high level restaurant. And it turned out to be so much more successful than I could ever imagine. Every single day was busy and it got busier and busier. We had people like Johnny Depp and famous footballers booking tables in our restaurant. That was just incredible!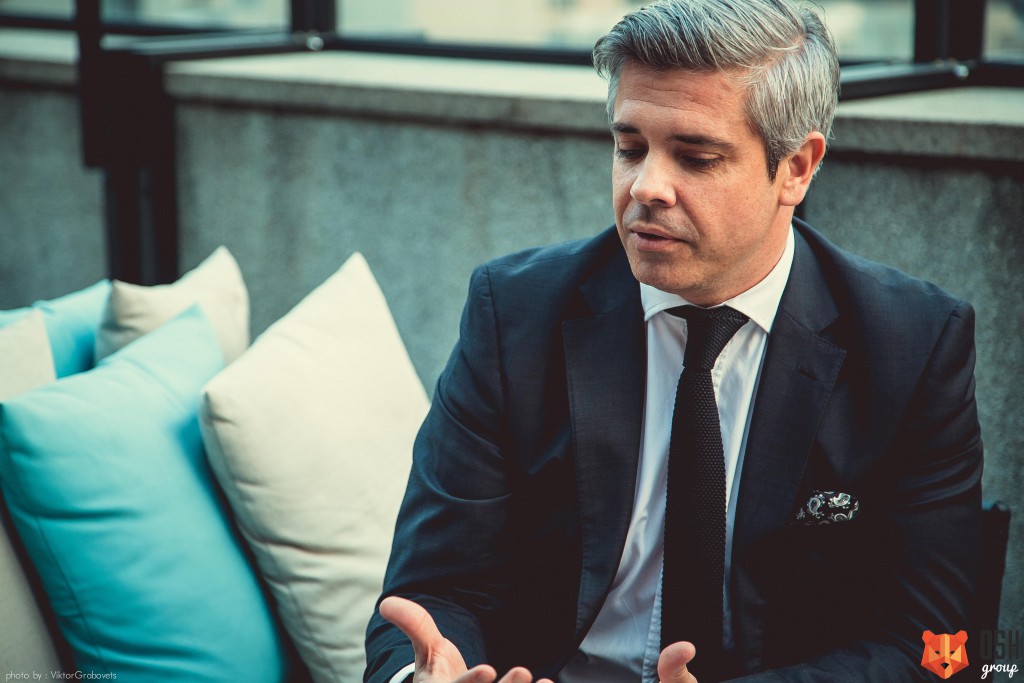 - What do you think was the main reason of such phenomenal success?
— The first and the most important reason was service. The service was fantastic. It was not necessarily because of qualified or experienced waitresses, but it was just really friendly, happy attitude which always made customers feel very welcome. In my experience, whenever you go to restaurant no matter how good the food is itself, if people have some negative feeling about the service, they probably will never come back. So my view was to make everything absolutely perfect. And surprisingly in the second year of that business we had people driving from London, which is two hours by car, coming just specifically to have dinner at my restaurant. I have no idea how people knew about it there. That was crazy!
- You said that you have no idea about how people knew about your restaurant, you mean that this time you also didn't do any promotion, right?
— I spent every single penny on getting that place ready. I didn't have money for advertising. We just had one ad at a local newspaper. Just one small page which had basically nothing on it. It only said the name of the company, and the phrase "Coming soon" and the address. That was all. But by the day it was opened people were crazy about it, they wanted to know what it was going to be. There was all sorts of gossip about who the owner was, who was going to the opening, and people were fighting to get tickets.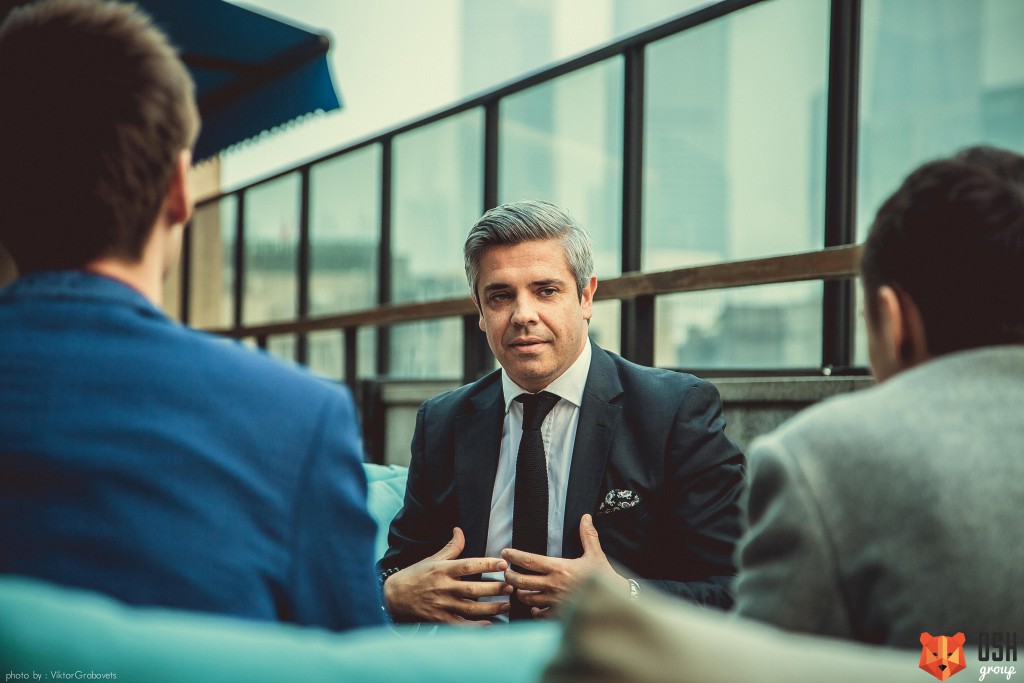 - What year was that?
— 2004.
- Today a lot of companies use the same marketing strategy, they do nothing but write the name of the company in the ad, most importantly we've heard that it costs a lot now.
— Yeah, but ironically I did it cause I didn't have any money. I was not that clever to come up with such extraordinary marketing strategy intentionally.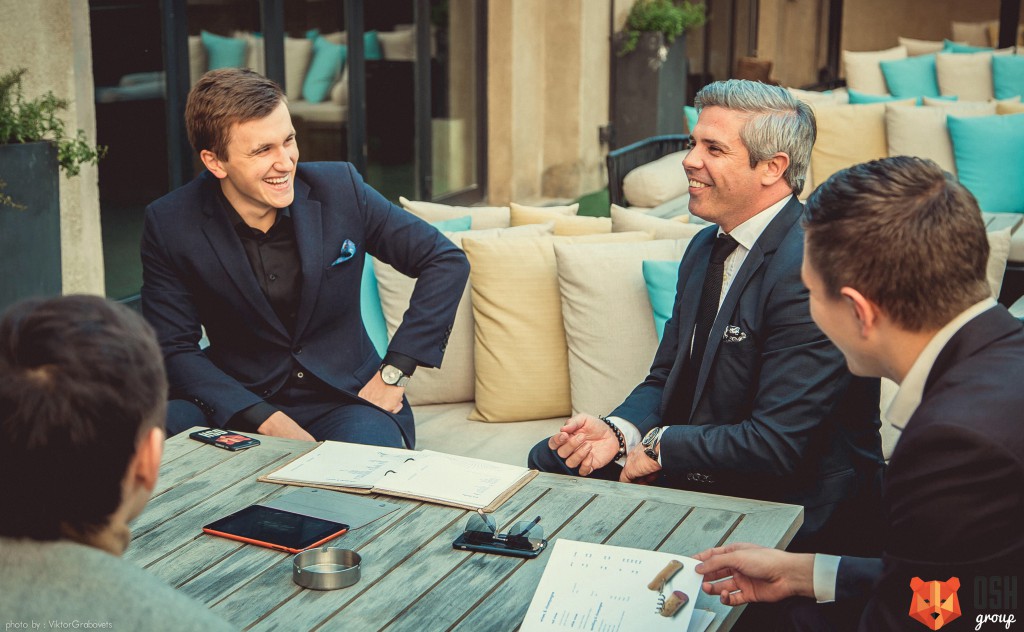 - So you had such a great success with that restaurant, what made you give that business up?
— That was for personal reasons. I was going through a divorce with my wife and had to sell up that business. That part of my life was over but it also gave me a new direction. I had to start again and at that point I realized that I wanted to do something for myself. I had a bit of money and could choose my career and things I wanted to get involved in. And I always wanted to try my hand at being a stock broker. I took some exams, became qualified and took a job with an American company based in London, a very high-stream name, Edward Jones Investments. Very quickly I realized that most stock brokers have no idea of what they are doing. They are just forced to do what they are told to do and that's about it. My boss used to walk into the room in the morning and say: Adrian, call up all of your clients and sell the stocks of some particular company. And I had to ring up every single client and ask them to invest 20 thousand pounds. If I didn't do that I would have trouble with my boss who was standing behind me and listening. So I knew very quickly this wasn't for me.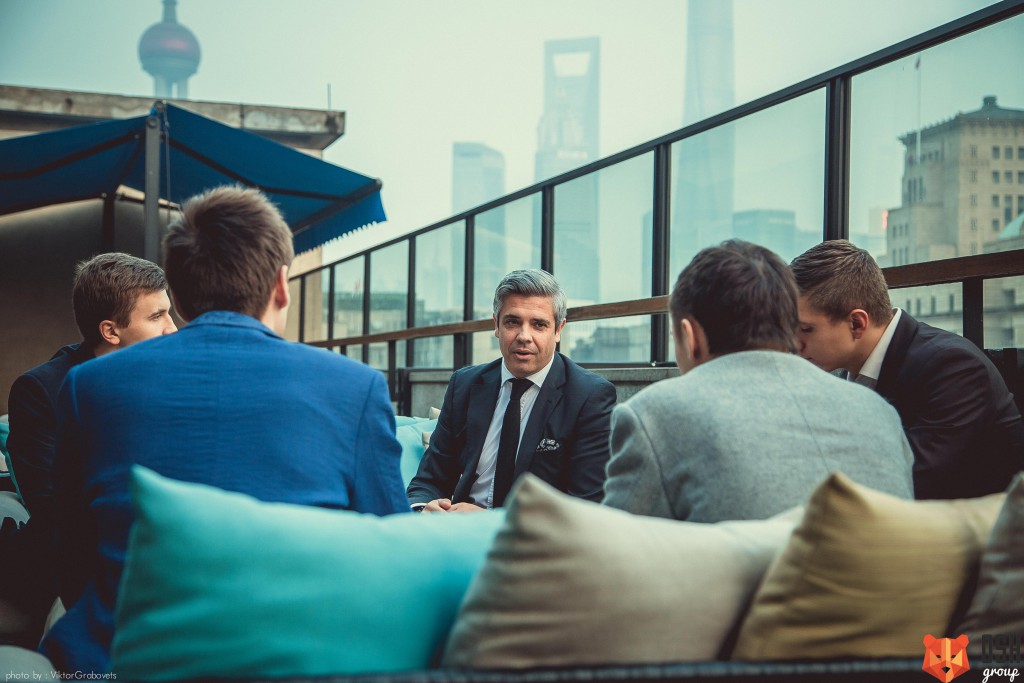 - But anyway that job gave you a good experience in this market, didn't it?
— Exactly, I got some experience and understanding of the markets. What was even more significant is that I realized that I liked it. But I still was a beginner in this sphere. So I looked eagerly for any opportunity to get more qualifications and experience. I came across the company named The Henley Group, a large privately owned financial advisory company which is operating across Asia. They gave me a great chance to become a financial advisor in Singapore where they had headquarters. Still the main job was convincing people to invest. You need to sell in order to be successful. But after 10 or 12 month of this work I saw that still didn't know how to convince people to buy. I didn't sell enough. So I decided to come back to the UK and get a job in high-street bank where I could get some real hands on experience and receive all the training I needed to be a success.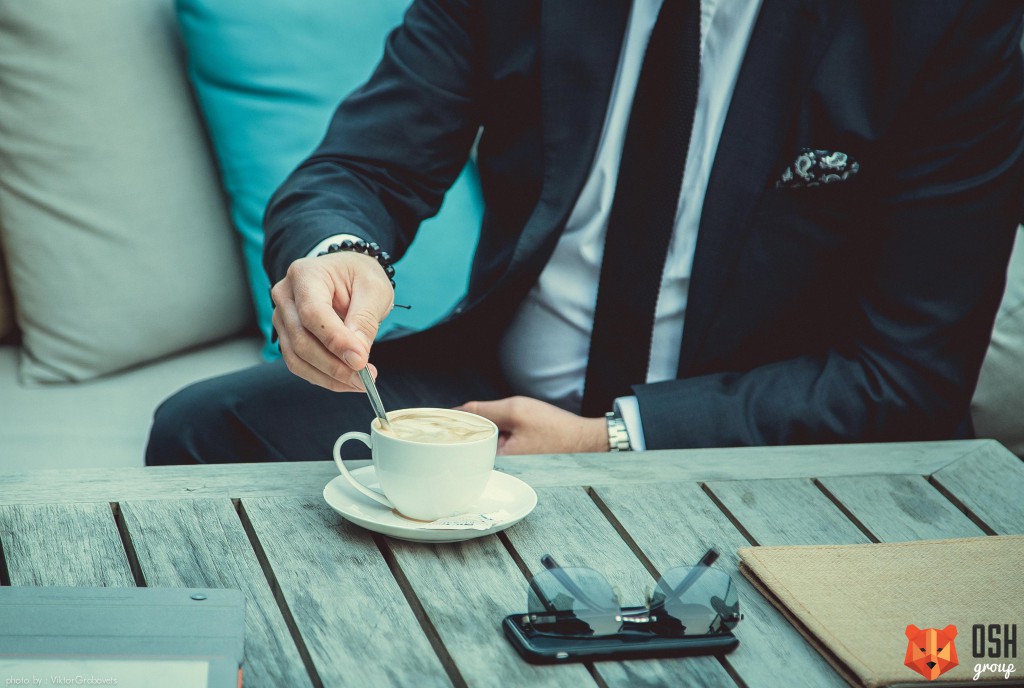 I spent three and a half years with the Halifax Bank of Scotland, one of the largest retail banks in the UK. And there I got all the training and qualifications that I needed. I was absolutely doing the best that I could. If you can imagine, of 12 hundred advisors working for the company in time I became number 8, I was in the top 10 of all their advisors and realized I was pretty good at this job after all. Perhaps it was one of the busiest times in my life, 8-10 appointments every single day and every appointment was a deal. That was fantastic. And that gave me a confidence to have another try at the offshore market. So I started to look for opportunities and decided on a role in the Middle East, Qatar, and there I spent 3 years as a senior financial consultant. Eventually I became the number one advisor globally for that company. And it happened not because good selling actually. I just love what I do – I love to help people and I love to give them good financial advice. People trust me with their life savings and to me this is such an amazing compliment, I feel totally obliged to provide the best advice and service that I can for my clients no matter how rich or poor and I love doing it.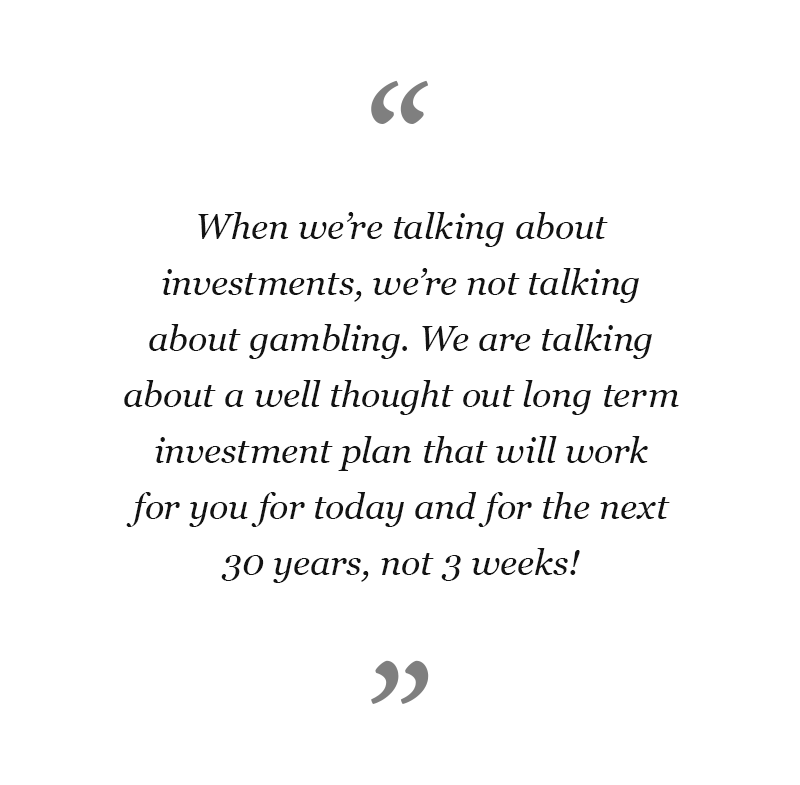 - So you've always been attracted by offshore market?
— Yes, I always wanted to try myself there, I find it interesting but always had the travel bug too. But there was one thing that I didn't really like about offshore market. Mostly you have to work on commission only basis and right there you have a conflict of interests in my view. If I only earn money when I sell you something, then I am surely thinking of myself not you, when giving you any advice. In a highly regulated environment, steps are taken to ensure that financial advisors are financially sound, managing their own affairs well to ensure no conflict of interest ever exists. I always felt that not being paid a salary could have negative impact on the quality of advice being given. And actually there is a lot of people in this market whose only motivation is to make as much money as possible and by all means necessary. After 3 years in Qatar I headed back to UK. I didn't want to work in this type of environment anymore.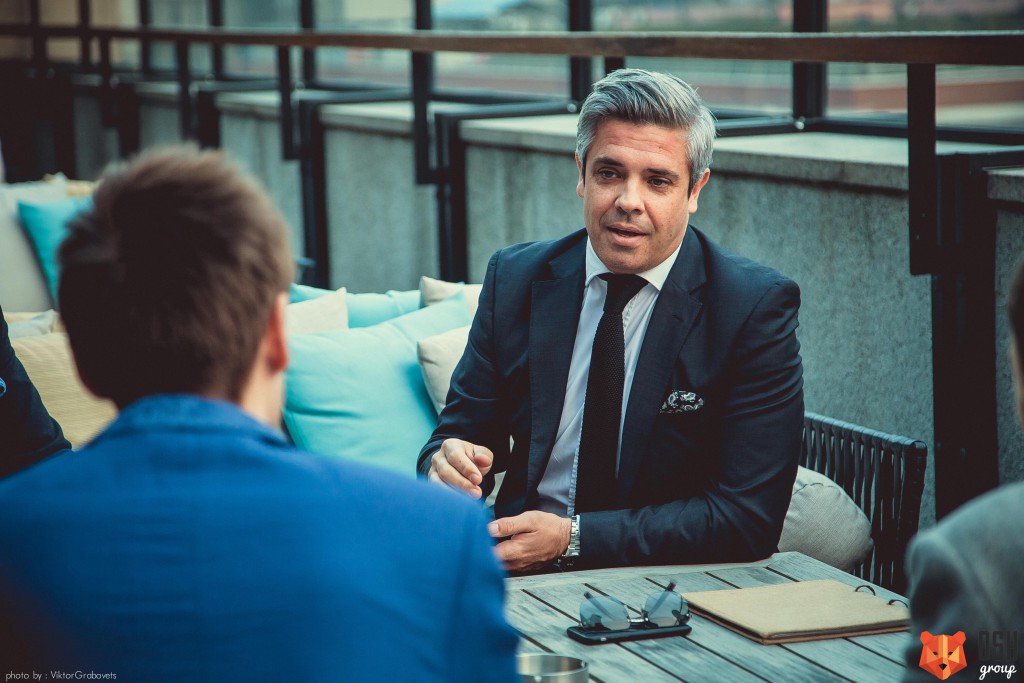 - Adrian, could you just explain the difference between offshore market and onshore market for our readers?
— Okay, it's quite simple. The onshore market is when you get a financial advice from a company in your home country. If you come from the UK and the advice comes from the UK financial advisor, there is all the protection of the UK regulator, all the infrastructure to provide you with safe, efficient and accurate advice. When you move offshore a lot of times a product in your home country is not relevant any more. For instance a life insurance plan might no longer be valid. The same situation could exist with your savings and investments. If you have these in your home country you might have certain tax benefits, but while moving abroad you lose all that benefits. Another example is the once you leave your country you may not be able to pay into a pension since you don't have taxable earnings in your home country. So the advice will be different, we can't use the same solutions for the onshore and offshore markets. And that's what offshore financial advisors do. They are looking for solutions in the offshore market that will meet your objectives and maybe give you some tax advantages and continue to work for you if you move around.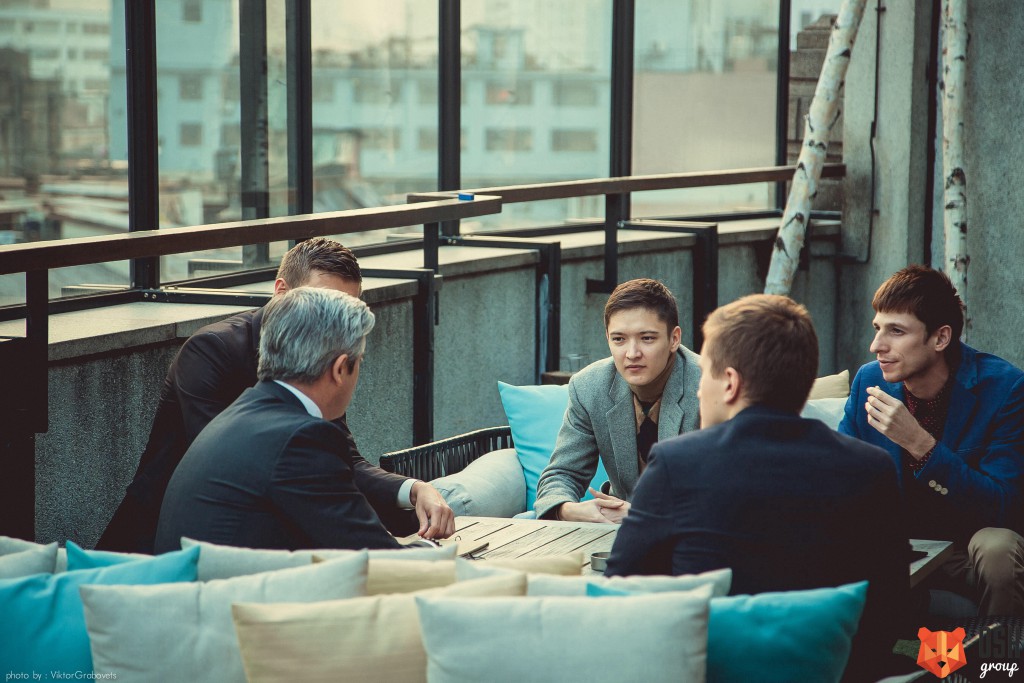 - So you were disappointed with offshore market, but now here you are in Shanghai talking with us about offshore market. What made you change your mind?
— The only reason why I decided to come back offshore is to work with St. James's Place. In the UK It is a FTSE100 firm known as the most trusted and fastest growing of its kind. I would never come to China, a place with no financial regulations and work for a company which didn't have such reputation as they had. Coming back to the UK after I'd worked in non-regulated company in China could be career suicide for me so St James's Place provided a very safe place for me to work because of its reputation and high integrity. My company guaranties the suitability of the advice I give to my clients too. When I give people a written recommendation, it's absolutely perfect. The guarantee of its suitability comes from the head office in the UK. I have over 700 people behind me to support me and make sure that I'm giving you the best possible advice. That's why I am here.
Besides this, I also don't have any conflict of interests working here. I don't work on a commission-only basis. I am paid a salary so you know that I am standing in front of you, working for you and free to give the best advice that I can, without thinking of my own benefits.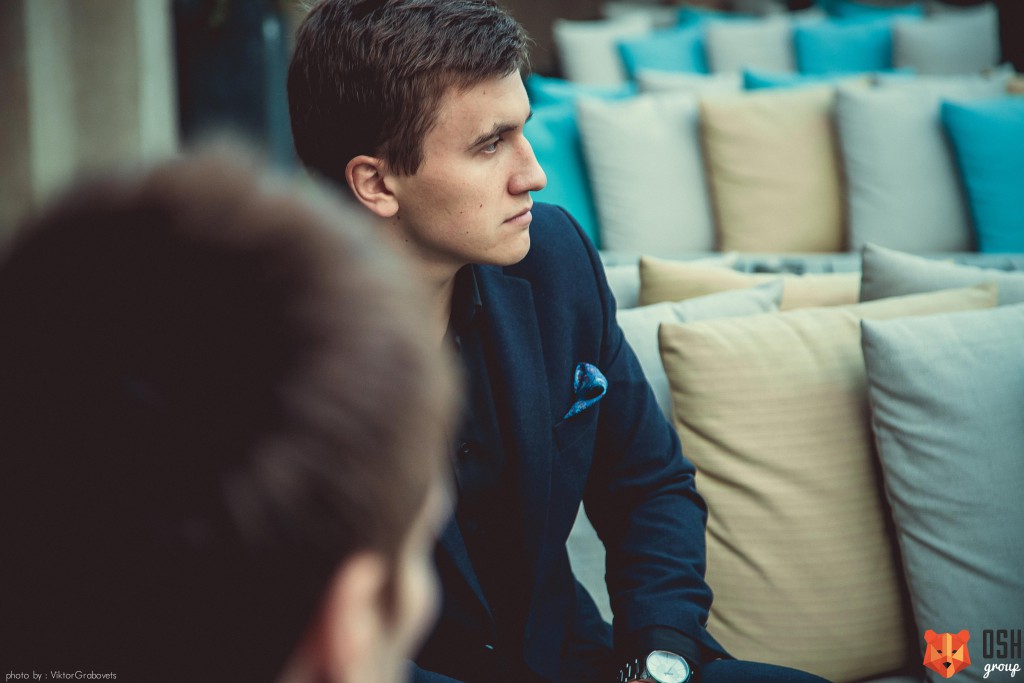 "We need our money to grow, otherwise it's unlikely we'll ever actually achieve our goals."
- Could you tell more about the service which you offer to the clients?
— I meet potential clients and review their entire financial life as it stands today, discover their objectives, concerns and future plans. Then start to put together recommendations to enable them to meet their future needs. Whether it's streamlining savings, reviewing insurances, setting up retirement plans or restructuring investments, we help people plan for their futures taking into account tax, lifestyle changes, legal issues, and anything else that may affect them.
It's a service that is based on what you need to achieve. Your priority might be to protect yourself from death or loss of health which is basically means loss of your income too. So the first advice may be to take out life insurance. We make sure that you're covered. The second thing may be to save some of your excess income so that you could build up some capital whilst working overseas. We may advice investment for this depending or your preferences.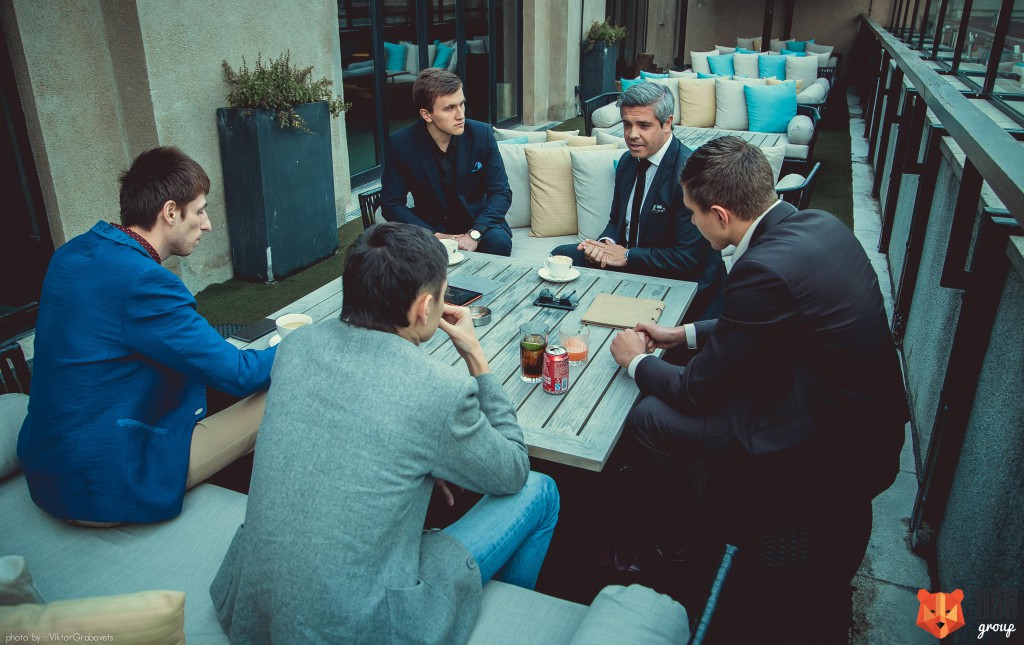 - About investments, is it stock-market based?
— Yes, it's mainly stock market-based. Because cash right now doesn't provide very much returns. We need our money to grow, otherwise it's unlikely we'll ever actually achieve our goals. In most cases we need more than we can actually afford. So we tend to advise on investment products to allow capital growth on our savings. Not necessarily high risk ones, but those that would give you some returns.
- What's the key difference of your company from your competitors in this field?
— Well, I've been working in this business for the offshore market maybe for 10 years or so and I've seen every single kind of offering. Many of the solutions are very structured and contractual, which really commits an investor to a long term strategy. Most expats priority is having access to their money and flexibility, so many of the solutions are unsuitable in my view. As they tend to lock your money away for long periods of time and penalize you for taking it early. It's also hard for expats to think long term as our lives are quite uncertain so most people plan 1-2 years ahead. So committing to a 10, 15 or 20 year contractual savings plan is very hard. We offer a totally flexible solution, with unlimited access, flexibility of payments and great investment choice, its perfect for expats. There are some potential tax benefits, low fees and we are completely transparent about what we earn so you go into it with your eyes wide open. We offer a repatriation service to all those moving to the UK in the future and guarantee the suitability of the advice which no one else offers anywhere in the world. The Investment choice is great and arguably we have the best fund managers working for our clients the world has to offer.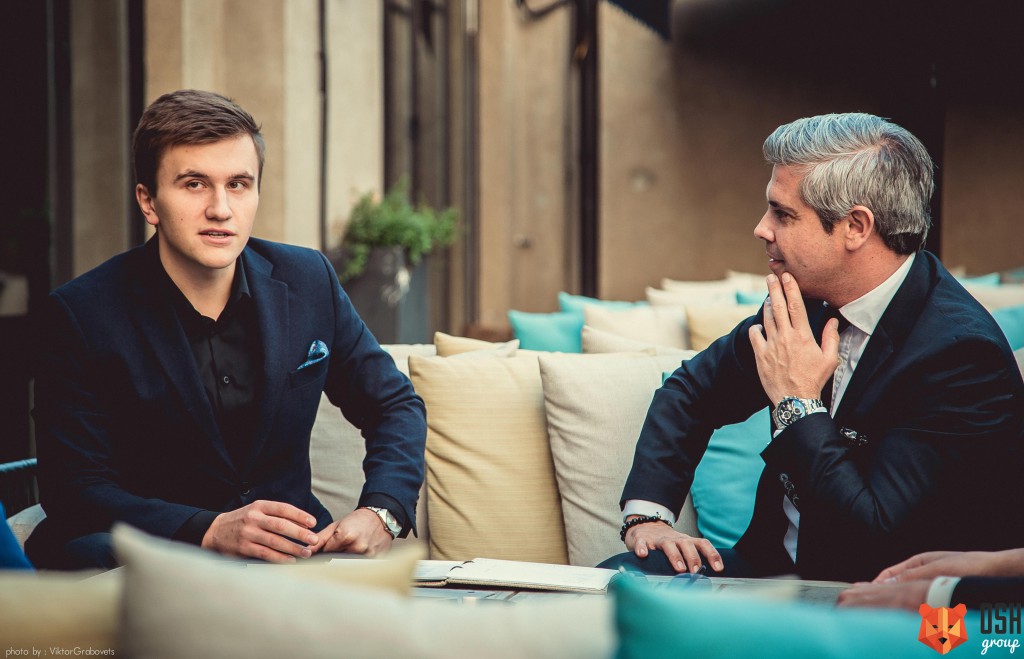 - How many Chinese clients are there in your company now? What's the proportion between Chinese and expats among your clients?
— For now we are purely focused on the expat market. We'll definitely work with Chinese clients in the future but there are some steps to do for this. One of the steps is to understand what drives Chinese investors. There are cultural differences. But the same concerns are always the same in all the young markets. In a young emerging market people always want guaranties. But you can't get any guaranties on an investment. It's impossible, because investments always grow up and down in value. You can have some protection around it of course, but that doesn't mean it's guarantied. And now a lot of Chinese investors or potential investors don't understand that.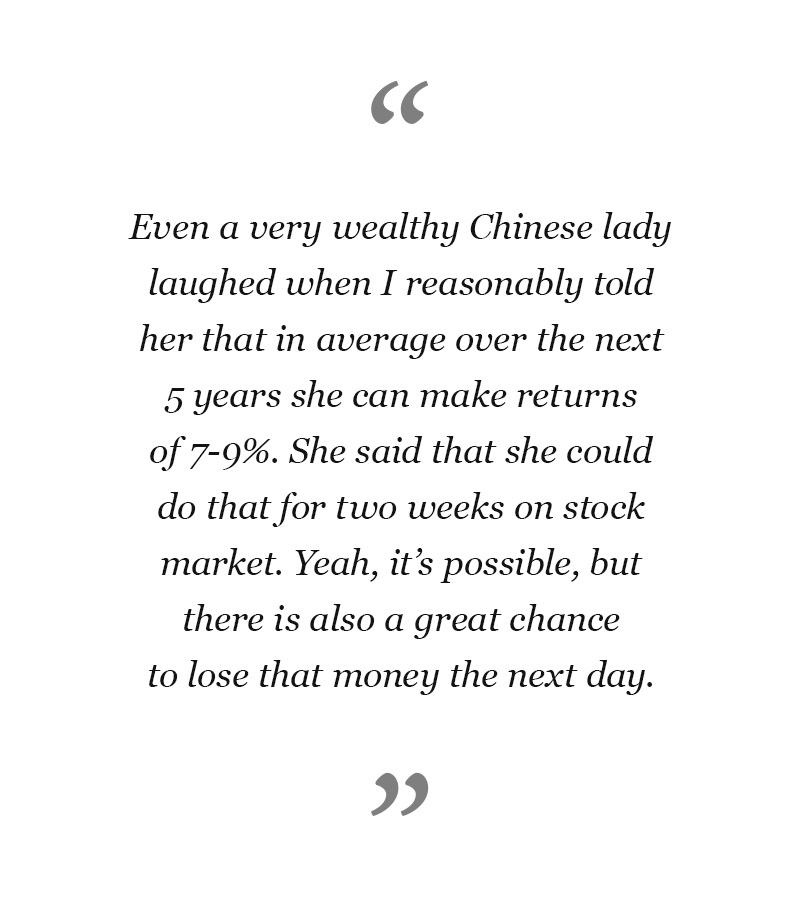 Another concern is that they also want an immediate return. They seriously say about 30% returns in 3 month or 100% in 1 year. That's ridiculous. A very wealthy Chinese lady laughed when I reasonably told her that on average over the next 5 years she can expect returns of 7-9% pa. She said that she could do that in two weeks on the local stock market. Yeah, it's possible, but there is also a great chance to lose that money over the next two weeks.
It's a question of financial education. People need to understand when we're talking about investments, we're not talking about gambling. We are talking about a well thought out long term investment plan that will work for you for today and for the next 30 years, not 3 weeks!
- About education, we heard that you had an idea to organize something like a school where you could teach people how to make investments right. Do you still have that idea?
- Yeah, sure and more over education that I am particularly interested in would be absolutely free. Over the last 15 years people who I met always had the same questions, fears and concerns. And I would like to share with people those concerns. I hope people learn to take control of their financial situation by being able to ask right questions of a person who is standing in front of them giving advice. I did some podcasts recently and the subject of one of them was particularly "asking the right questions".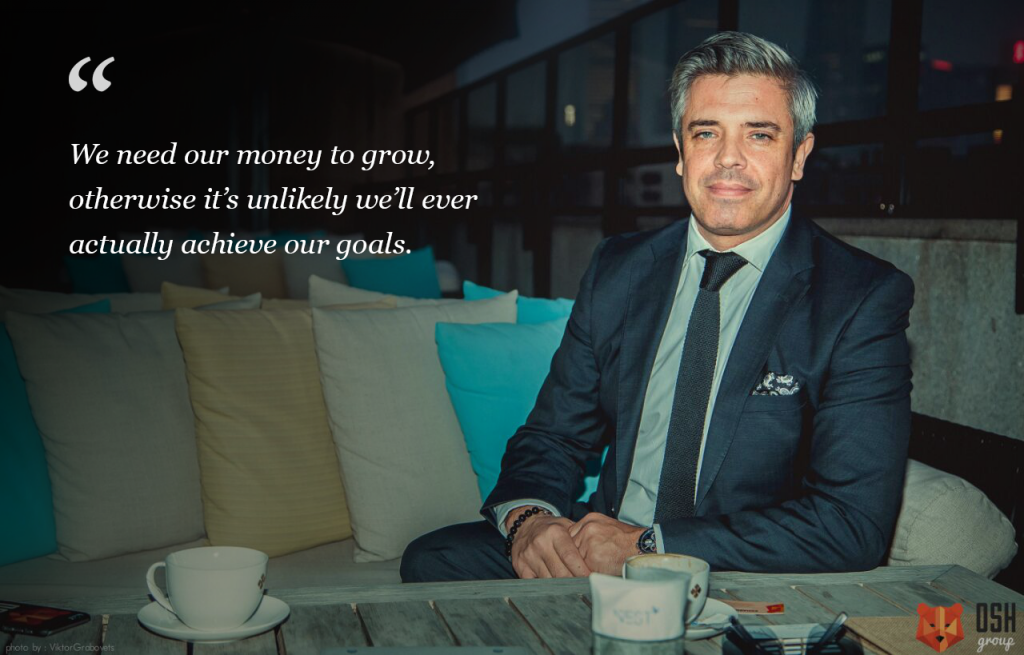 - Adrian, as a final question we traditionally ask our interviewees to give some advice for young entrepreneurs. What advice could you give to young people who want to become successful?
— The first advice is to keep saying "Yes" to any challenge or opportunity that appears in your life. I'll tell you a story from my life which illustrates this principle properly. When I had a restaurant, one day one of my clients to whom I was talking to was looked a little bit depressed. I asked him what was the matter and he told me "Every Christmas I give my clients a gift, a Christmas hamper. But my supplier has let me down. All my clients won't get a Christmas hamper this year. He asked "Do you know anyone who makes hampers?". And I said "Yes, I do. Me, I make Christmas hampers". Actually I didn't. I had no idea about that business at all. But I said "Yes, sure, how many do you need?". He said he needed 500 hampers with budget 100 pounds each. In my head I firstly calculated the whole budget to be 5000 pounds and I said "Yes, I'll do it". We shook our hands and he had to get back in two weeks to have everything ready. When I came home I reworked it out and it wasn't 5000 it was 50 000 pounds. I was thinking "Oh my Gosh, what've I done?, I've just committed to doing 500 hundred pounds hampers!". The logistics of that was just phenomenal: 500 bottles of wine, 500 bottles of olive oil, 500 boxes of mince pies and so forth. I needed a warehouse to produce all this. I had none of that. But I already committed to this, so I did it. Even in spite of that I probably didn't sleep for three days just to get everything ready. And two weeks later I had made about 18 000 pounds of profit… Not bad, yeah? Just for saying "Yes".
My second advice and this has to be the best advice anyone could ever give in my view is to save 20% of every single penny that you earn. If you follow that advice, when you get my age which is 44, you'll be ready to retire. You'll achieve all your financial goals.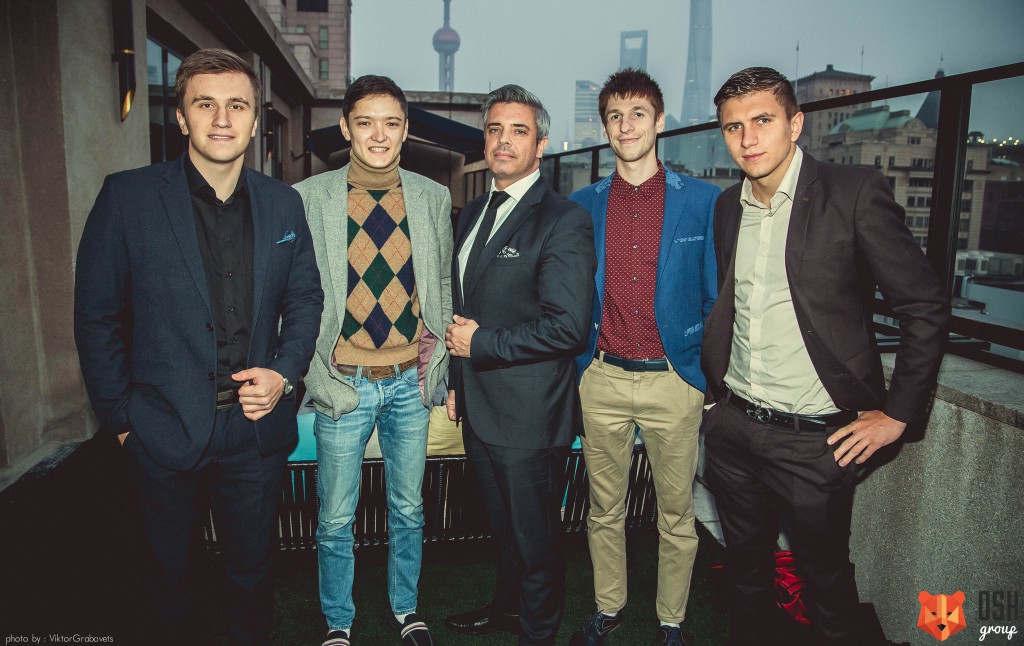 Interview by: Klim Likhitinov, Evgeniy Lugovoy, Vadim Koziashev
Edited by: Vadim Koziashev
Photo and video by: Viktor Grabovets